Drawing tablets are the basic tools needed for creating digital art. They are similar to real-time painting canvases, but they are more flexible and are customized to provide the best user experience. These days there are a lot of drawing tablets available in the market and choosing one can be a daunting task.
In this article, we bring to you the best drawing tablets of 2021 that suit the needs of both professionals and newbies. So let's dig in.
Wacom Cintiq 22 - The Allrounder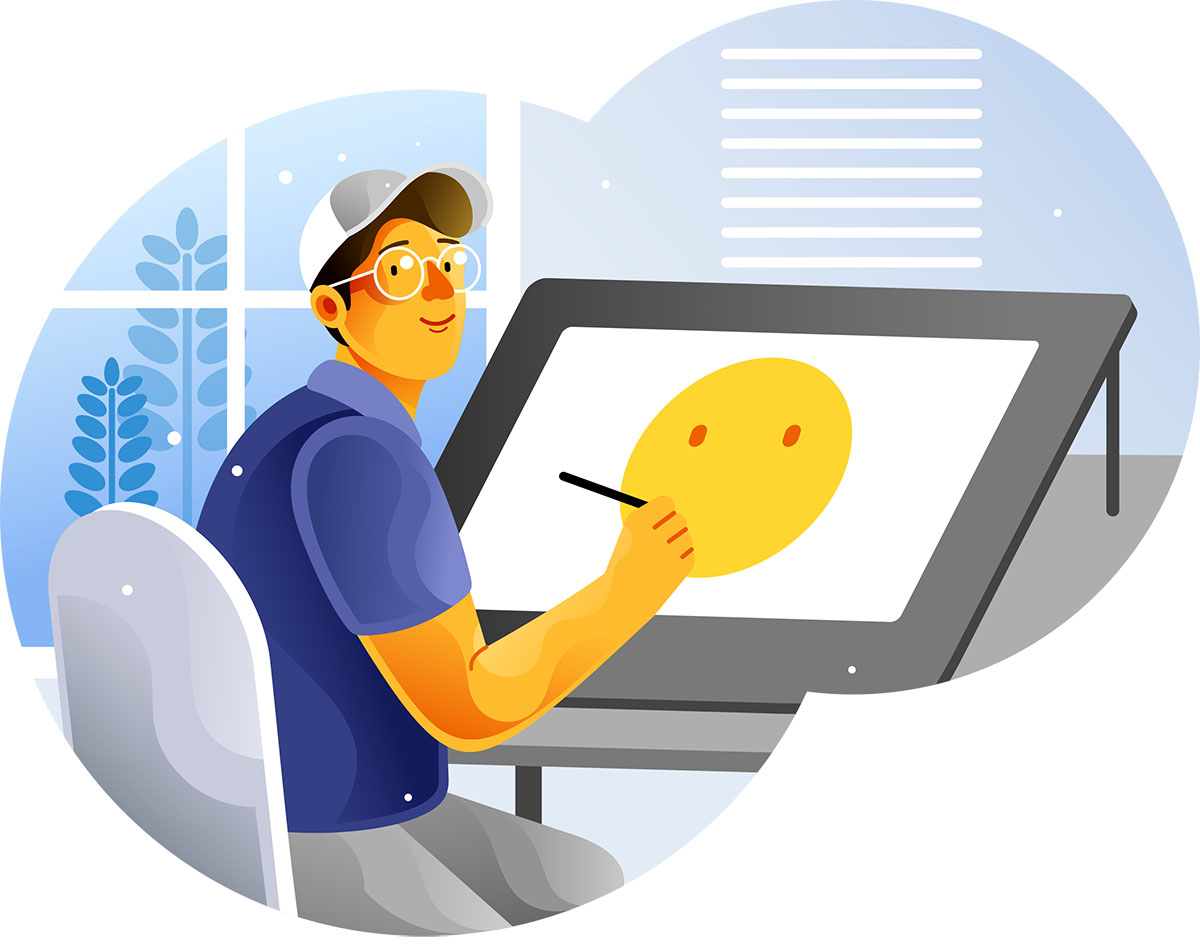 Specifications in a glimpse:
Active drawing area: 19.5 x 11.5in
Resolution: 1,920 x 1,080
Pen pressure sensitivity: 8,192 levels
Connections: HDMI, USB 2.0
Pros:
Remarkable pressure sensitivity
Good value for money
Cons
Screen resolution is low
Lacks built-in Express Keys
The Wacom Cintiq 22 offers fantastic functionality at a reasonable price. It comes with a full-size HD drawing screen which allows the flexibility and ease to make sweeping strokes from the pen. The screen comes with an anti-glare finish which enhances the user experience and doesn't strain the eyes. The accompanying Wacom Pen 2 is equipped with tilt sensitivity and has good reception to pressure. These characteristics enable the pen to capture even the slightest variations in angle and movement and manifest them on the screen.
This tablet is recommended for both professionals and newbies who have just entered the world of digital painting.
Apple iPad Pro 12.9 - Most Suitable Drawing Tablet for iOS
Specifications in a glimpse:
Active drawing area: 10.32 x 7.74in
Resolution: 2,732 x 2,048
Connections: Lightning, Bluetooth, Wi-Fi
OS: iPadOS 13.4
Pros
Very fast performance
Excellent display
Cons
The charging cord is quite short
Apple pencil comes with extra cost
Apple's iPads have been a hot favorite among graphic designers for a long time. Apple iPad Pro 12.9-inch is a treat for all digital designers as it is equipped with A12Z Bionic chip and an 8-core graphic engine. The combination makes it a stellar device with exceptionally fast performance. Coupled with the Apple Pencil, you can create amazing art with little effort. The pen is highly precise and has a perfect pressure sensitivity curve. The device carries a magnetic storing chip which is located on top of the tablet.
It acts as an automatic charger for the pen which offers much convenience to the users. The only downside to iPad Pro is that it can cost quite a bit particularly due to the fact the Apple pen has to be purchased separately as well.
XP-Pen Artist 15.6 pen display - An Affordable Pen Display Tablet With Good Performance
Specifications in a glimpse:
Active drawing area: 13.54 x 7.62in
Resolution: 1,920 x 1,080
Pen pressure sensitivity: 8,192 levels
Connections: USB-C
OS: Windows or macOS
Pros
Affordable gadget
Drawing pen is amazing
Cons
The quality of built-in sound is bad
Kickback stand is not included
The XP-Pen Artist comes with a 15.6 in screen which gives ample visibility and drawing area for artists. It is equipped with a drawing pen that manifests multiple levels of sensitivity and pitch-perfect precision. This is a reasonably priced gadget that is suitable for beginners. It is not as sophisticated as some of Wacom's high-end and high-tech gadgets. But it offers good value for money and a decent experience creating amazing digital art.
This information has been brought to you by Digital Painting Studio. Stay tuned for more information on the best drawing tablets in 2021.